When it comes to deciding where a Danish company should file its patent applications the US ranks as the most important country. According to the Danish Patent Office, the US was the number one country where Danish companies applied to obtain a patent in 2015: 2.290 applications were filed in the US (http://www.dkpto.dk/information/om-os/noegletal/). In comparison, only 1930 and 1332 applications were filed at the EPO and as a PCT application, respectively.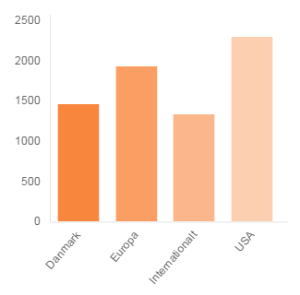 Source: Danish Patent and Trademark Office, http://www.dkpto.dk/information/om-os/noegletal/
Nordic Patent Service – the ideal choice for Danish companies:
At Nordic Patent Service, we know that we can offer our clients numerous benefits when it comes to US filings – all of which are able to improve efficiency and quality, reduce costs while providing an invaluable service. Our  in-house US patent attorney, Mr. Geza Ziegler has been working for NPS since 2010. Geza is a seasoned expert when it comes to the US patent and filing system and has broad experience in representing clients in patent drafting and during the prosecution of patent applications in the USPTO.  Geza's involvement in the patent profession started almost two decades ago, prior to which he worked as an electrical engineer. His field of expertise includes mobile telecommunication systems, computer peripherals, computer implemented inventions,  consumer appliances, magnetic resonance imaging systems, medical devices and mechanical devices, among many others. Geza is also involved with design patent applications and trademarks in the US.  He has represented clients in drafting and prosecuting  applications as well as review proceedings.
By providing this direct to US filing service, Nordic Patent Service eliminates the middle man, and the time and cost that is associated therewith.  The decision making, filing process and communication line is streamlined.  This very efficient process benefits our customers in time, quality and cost.
Geza is a true asset to our team as he also knows the Danish and Scandinavian culture (humor) and market well, which make him an excellent bridge  between the two continents.
What we can offer:
Easy and straight forward patent drafting and prosecution in front of the USPTO.
All potential obstacles or issues can be dealt with directly through us, without the need to involve another US law firm or third parties.
Direct filing with the USPTO, thus saving costs to our clients.
We would be happy to assist you and your company with direct US filings. Do not hesitate to contact us at info@nordic-patent.dk to discuss your questions further.